deVilbaT
on Sat 19 Nov 2016 - 19:05
Hello,
After fresh install Windows cutted by latest WinReducer.
I can not find what I removed. Previously, this was not.
.WCCF won't change. Maybe bug.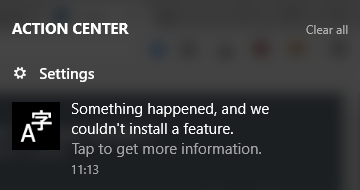 Regards.
KrX
on Sat 19 Nov 2016 - 19:26
what feature do you mean? something like net framework 3.5?

did you switch on "System - Integrate - Windows Updates Files Cleanup" ?


someone reported that using this component breaks this feature but i cant find the thread
deVilbaT
on Sat 19 Nov 2016 - 20:38
This is always downloaded feature when you first install Windows.
I will check your feedback.
Anyway. No framework 3.5 integrated before I cutting Windows.
deVilbaT
on Mon 21 Nov 2016 - 11:04
Message reputation : 100% (1 vote)
Done.
Accessories - Spell Checking.
Probably because the system is in English and the selected language/keyboard is Polish.

Thread can be moved.

Permissions in this forum:
You
cannot
reply to topics in this forum