scottallthefriends
on Thu 18 Oct 2018 - 3:27
In the WR 2.0.4 I didn't see an app for removal called Mobile Plans: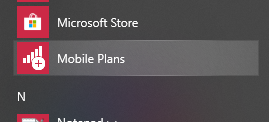 Does WR currently support removing but has a different name (in English) in WR? Or is it new and doesn't have a removal option yet?
Thanks
on Fri 19 Oct 2018 - 20:32
Hello,

Could you please tell me which Windows 10 RS5 edition you are using .. thanks.
scottallthefriends
on Sat 20 Oct 2018 - 4:19
Oh sorry, Prof Workstation N
on Sun 21 Oct 2018 - 0:22
Hey,
No problem

The component is "Modern UI Apps - One Connect", which is already available in EX-100

I wish you to have a great day !

Permissions in this forum:
You
cannot
reply to topics in this forum